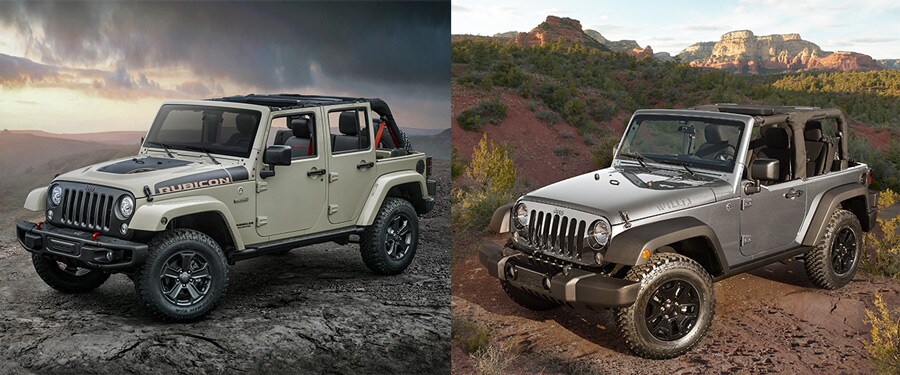 Which Model is Right for You: the Jeep Wrangler JK or the Jeep Wrangler Unlimited JK?
If you're looking for a new 4x4 vehicle that offers awesome performance both on and  off the road, then be sure to check out the Jeep Wrangler and Jeep Wrangler Unlimited. Both of these vehicles offer amazing 4x4 capabilities along with a variety of features that allow you to take on all kinds of driving challenges and adventures. When you get behind the wheel of one of these vehicles, you can expect rugged performance and reliable durability, allowing you to feel confident behind the wheel no matter where you go.
Both the Wrangler and the Wrangler Unlimited offer amazing performance so, no matter which one you choose, you can expect a great ride. But how can you determine which of the two models is the right one for you? Below, you can learn about the similarities and differences between the two models so you can decide which one is the right choice for you.
Jeep Wrangler JK vs Jeep Wrangler Unlimited JK
Price: The Wrangler is more affordable, starting at $23,995, than the Wrangler Unlimited, starting at $27,895.
Size: Both models offer seating for five, but the Wrangler Unlimited is larger, with four doors and more passenger and cargo space, while the Wrangler offers two doors and a smaller cabin.
Performance: Both models wear the Trail Rated badge, showing their impressive capabilities on and off the road. They both come with a V6 engine that provides 285 horsepower and 260 pound-feet of torque for an exciting drive. Both offer a choice of two amazing 4x4 systems along with heavy-duty axles, a sway bar disconnect system, Hill Start Assist and Hill Descent Control for great performance.
Features: Both models offer a choice of a hard top or a soft top that can be removed for an open-air drive. You can also enjoy features like heated seats, power outlets, heated mirrors, lockable storage bins, the available Uconnect system and more in both models.
Trim levels: Each of these vehicles offers 11 different trim levels for you to choose from, so you can find the model with the features that matter most to you.
As you can see, these vehicles both have a lot to offer and they also have a lot in common. They both have great performance and features that make for a great ride. The main difference is in price and size. The Wrangler is more affordable, and the Wrangler Unlimited is larger. So if you're looking for more space to bring along more cargo and allow your passengers to stretch out, then the Wrangler Unlimited is the one for you. And if you're looking for a lower price so you can enjoy more savings, then the Wrangler is the one for you. But whichever model you choose, you can expect an amazing drive.
The best way to find out which vehicle is the right one for you is to take each one for a test drive. We would be happy to show you our available models and take you out for a test drive in the ones you're interested in so you can see what each one has to offer and decide which one you want to take home. Then when you've chosen the model that's right for you, we will gladly help you get the auto loan or lease you need to get behind the wheel as soon as you're ready.