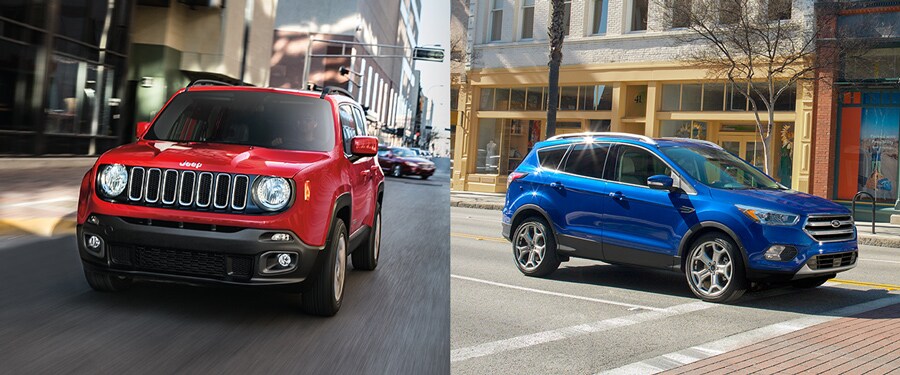 Why Choose the Jeep Renegade Over the Ford Escape?
If you're looking for a new compact SUV with a stylish design and impressive capabilities, then be sure to take a look at the Jeep Renegade. This vehicle has a unique, modern style that will turn heads wherever it goes. It also offers impressive capabilities both on and off the road so you can take on all kinds of driving adventures. The Renegade also offers a variety of features designed to make your ride more convenient and safe. And you can get all that at an affordable price.
This vehicle is an excellent choice for drivers who want exciting capabilities, eye-catching style and compact versatility at an affordable price. However, this vehicle also has some competition. Other small SUVs like the Ford Escape also offer great features and a great price. This might make it hard to determine which vehicle really is the best option for you. Below, you can learn about these vehicles and you'll see why the Renegade is a great choice.
Jeep Renegade vs. Ford Escape
Price: The Renegade is more affordable, starting at $17,995, than the Escape, starting at $23,750, so you can save more.
Space: Both vehicles offer room for five. The Renegade offers little more passenger space so you and your passengers can stretch out and stay comfortable. Both offer ample cargo space with folding rear seats, but the Renegade offers more versatility with 40/20/40 split seats, while the Escape offers 60/40 split seats.
Capability:The Escape offers an available 4WD system that can take on a variety of conditions on the road. But the Renegade offers a choice of two rugged 4x4 systems that can take on a variety of conditions as well as all kinds of terrain for amazing performance both on and off the road. The Renegade also offers features like Hill Start Assist, Hill Descent Control and the Selec-Terrain Traction control system for even better off-road performance. The Renegade al so offers a 9-speed automatic transmission for quick acceleration and an energetic drive, while the Escape only offers a 6-speed transmission.
Features: The Renegade offers a number of features that are not available in the Escape, including the following: removable roof panels for an outdoor driving experience, keyless start for your convenience and more.
As you can see, the Renegade has a lot to offer. While both models offer great features, the Renegade offers better off-road performance and is more affordable. So if you're looking for a rugged vehicle that can take on all your adventures, then the Renegade is the better option for you. And even if you plan on staying on the road, the Renegade can provide the agility and capability you need for a safe and exciting ride, along with a stylish look that you'll love.
If you're interested in learning more about what the Jeep Renegade has to offer, come on over to our Fairfield, CT dealership. We would be happy to show you our available models and arrange a test drive for you so you can see for yourself what this vehicle has to offer and decide if it's the right fit for you. Then we can help you get the auto loan or lease you need to get behind a model of your own as soon as you're ready. Visit us at any time and we'll help you get started.