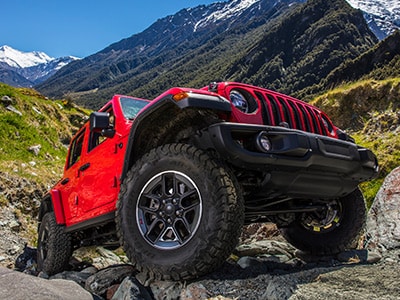 The Jeep Wrangler is as fun to look at as it is to drive. You'll be able to choose from unique trim options as well as bold exterior colors. This boxy Jeep is fantastic for every-day driving, as well as weekend adventures. You'll be able to unleash your inner adventure enthusiasts every time you get behind the wheel, even on your morning commute. The Jeep Wrangler offers you a modern car for an affordable price! You'll have everything you need from the inside out to enjoy every mile.
Wrangler Design Features
The first thing you'll notice about the Jeep Wrangler is its unique shape, so if you are looking to stand out in the crowd in a car that is as stunning as you, the Jeep Wrangler is a fantastic option. We love that the Wrangler appeals to all different kinds of shoppers with its off-road heart. The classic Wrangler front-end styling remains with updated headlamps that illuminate the path ahead with ease.
On the inside, you'll settle into a spacious cabin with ample headroom thanks to its boxy design. There is a large touchscreen, as well as fun color accents that bring your personality to life every time you get behind the wheel. The Uconnect 4 touchscreen system lets you access smart features like navigation, music, calls, text and much more, all while keeping your eyes safely on the streets.
Capability
When you buy a Jeep, the capability is one of the first things that comes to many shoppers' minds, and while the new Jeep Wrangler is the most fuel-efficient Wrangler ever, it still loves to get dirty. There are ample safety features as well as 4X4 capability that makes driving in the rain and snow effortless.
The Jeep Wrangler is now for sale at a fantastic price! Visit us today for a test drive!